Soooo I was so excited for
this weeks Pencil-Lines
cause its guest is one of my scrappy heroines - you know, when you start out you're in such awe over scrapbookers who's like, impossibly amazing and stuff??
Cecilie Lundstad
is one of them....she was one of the big ones back then and she still is :) So anyways, finally got to meet her back in the fall and well, when she was gonna guest Pencil-Lines I thought it would be like, cool to scrap this picture of us together :p Only,
I know
I'm not quite sure wheter this layout...well...measures up..kinda. Ohwell. It's okayish. And it's a friend, so I guess I should share this one (it was supposed to be up at PL too but didn't because of a slight misunderstanding. At first I thought that was fine as I wasn't comfortable with the layout, but then again. It's silly, I should share this, esp as it's for a friend. (I am silly at times :p) So. Should be up soon if not already :) ). So. Cecilie - am so happy for you!! And do pay
her blog a visit
- she's amazing and I am so happy she's back scrapbooking after a bit of a hiatus!! :)
And well, the layout - pulled out
this
(yes I have to link, I thought the hue was amazingly cool and Im still sad I had to cut in that paper and not use the backside) amazing Prima-paper I really didn't know I had, from 2007 - god I love that paper! Totally loved the hue of the backside, but decided to use the front which fit with the sketch. Ahwell - the downside of double-patterned papers :p Other stuff includes uh Hambly and some glimmer mist :p
Alright, on to something else;
Bad Girls Christmas Workshop at the message board.
OH yeah. It's that time of the year.
And this time it's bigger and badder than ever - with 22 FREE classes throughout and lots of fun and stuff starting Nov 14th all the way to Nov 23rd! Nice eh? :) And - go on and visit the message board now - the supply lists for the first classes have already been posted - and more to come :)
There's also a Blog Candy for those of you who'd like help spreading the word: all you need to know is in this post. And as a little thank you gift there will be one lucky winner walking away with a whoppin'
50$ gift certificate
to the
Bad Girls Store
. Yeah! :)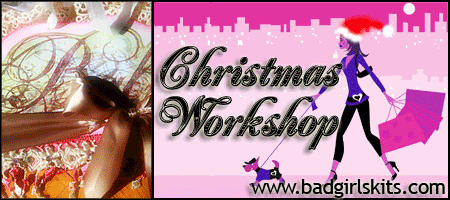 Right. Off to Oslo in just a few days, got quite a bit to wrap up before so but getting there.
Oh by the way - those of you who have attended my classes -
email me and let me know
and I'll set you up with the private class-blog(s) I have made for these if you haven't gotten an invitation yet. Consider that an extra bonus ;) About to attend a class of mine? I'll let you know the details in the classes - see ya there :)
Hmhmhm. I don't think Ive forgotten anything as for now so. See yas :)